---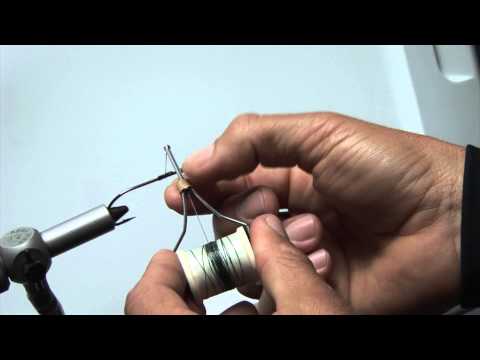 ---
There's lots of lipless crankbaits on the market and I've gotta say I've tried just about all of them and finally settled on one that's always in my box. The Yozuri Ratll'n Vibe is one that is not commonly used and has a slightly unique color and sound which I believe make it that much more effective.
It's a great running bait and looks good too. There's a greenish iridescent glow to the bait that is unique to Yozuri along with the black and gold with orange belly that's always worked so well for me in Florida. It's like a junebug worm.. for some reason fish in Florida like it.
They're great baits right out of the box but the tinkerer in me has it doctored up a little bit.  I replace the stock round line tie with a tear drop shaped line tie. I tie the line to the narrow end when I want a wide wobble and for it to go through hydrilla a bit easier. I tie to the round end on really cold days to give the bait a tighter wobble. Its too bad Xcalibur stopped making the tear drop shaped split ring. I'm now resorting to taking them off old baits and stockpiling them.
Anyone who fishes these baits a lot can attest to some giant bass that jump and shake this bait so I take stock hooks out that are good already and replace them with #4 Mustad KVD treble hooks.
I throw this bait on 3 set ups:
7′ Medium Kistler Composite Cranking Rod, Shimano Cardiff 200 5:8:1, Berkley Big Game 12 lb
7′ Medium Kistler Magnesium; Shimano Core 6:2:1, Seaguar 15 lb fluorocarbon
7′ Medium Heavy Bass Pro Shops Rick Clunn Crank Rod; Revo Stx 6:2:1; Seaguar 20 lb fluorocarbon
Each set up runs the bait at a different depth and allows for covering various thicknesses of hydrilla.
I can't wait for things to start cooling off and start becoming time to throw the trap although anyone can catch a fish on this thing all year round.
---
I've been noticing some things popping up on the Kistler Rods facebook page about a new rod that's coming up in the Kistler line up. It's the new KLX series that I would imagine is soon to be released.
The only thing I know about it is these rods will feature a blank designed and built by Gary Loomis and Trey Kistler with a hybrid/modulus action at North Fork Composites. To be perfectly honest I have no idea what hybrid/modulus means. Maybe it means its a really soft tip. Hopefully, they'll clarify this when it comes out.
The only thing that I do know is that its similar to the Z Bone IM blanks that were previously available.
As always, there will be no foregrip, ECS reel seat, Amtak micro guides, and Fuji tip.
Can't wait to actually see one. This is the best pic we've got for now.
---
Here's somewhat of a new bait. It's sort of a new style beaver bait and it's sort of a new color at least for Gambler called "River Bug".
Actually I can't see too much difference between this bait and the Reaction Innovations "Sweet Beaver".
Actually can't see the difference between the "River Bug" and the Junebug Blue Silver by Bitter's Best Value .
Sort of glad Gambler started making this color since I've been searchin for a replacement for the old Gitem June Blue Silver since they've stopped making baits. The Bitter's Best Value only comes 6 to a pack so it's not that much of a discount although they're 2 for $5.
Hopefully Gambler will extend the use of their color to the Sweebo worm as well.
In either case, this is one color that catches fish in Florida no matter what the water color.
---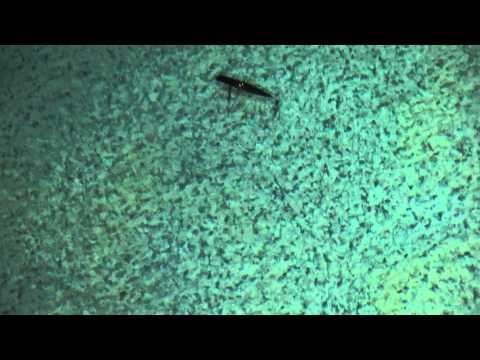 Recently noticed this video of the Strike King Red Eye Shad and it just confirms that it's the best rattletrap when it comes to the shimmy when it falls. Sometimes the fish want it burned in which case has a tendency to turn on its side a bit but a lot times, they want you to simply lift the bait and then let it flutter down. When the bass want it this way, the Red Eye Shad is the best bait out there.
That being said, I'm still not 100% convinced the #2 KVD triple grips are necessary since I think fish are harder to hook with the points bent inward but they do stay on better when you're reeling them in.
The most productive time of the year although it works any time any where is the pre spawn and I do add a red treble to the front which I think is effective any time you're around the spawn.
Anyone who fishes these things a lot know they get torn up pretty easily but the best thing about the Red Eye Shad is that they're cheap so you don't feel bad about losing one or getting another one. Not such a good thing for someone who has tendency to buy something at just about anywhere they sell fishing tackle.
---
Kistler Rods is coming out with some new offerings in 2012 that's getting me pretty excited. Those of you who were fans of the Graphite Plus Composite and the Alton Jones Magnesium TS Composite will be excited to hear that glass composite cranking rods will return with micro guides in a 7′ and 6'6″ model. Glass just works for some reason for cranking and can't wait to see how it handles my traps and squarebills.
Another old favorite that's returning is the 7'6″ extra heavy Helium flippin stick that's been sorely needed in the Kistler lineup for those of us who fish in heavy cover and the 7'9″ deep cranking rod that was in the Argon lineup will be returning in the form of a Magnesium.
A new size that I'm a huge fan of is the 7'3″ which is a little lighter than a traditional 7'6″ but also allows you to move more line on the hook set and offers more control over the fish than a traditional 7′ rod. It's really a perfect compromise and it will be available in a medium heavy, heavy, and extra heavy.
I haven't heard a whole lot out of any of the major tackle portals, but let's just say I've gotten this info from a pretty reliable source.
---
I'm a bit of hoarder when it comes to fishing lures and lately I've been eyeing some fancy prop baits since the introduction of the Rapala X Rap Prop.
Jeff Holland from the Jeff Holland Blog pointed out another prop bait that I need to try out made by Lucky Craft called the Splash Tail 90. You wanna talk about quality components, it's a ball bearing double prop bait with a super technical paint job that Lucky Craft is know for.
A quick look at the Lucky Craft site revealed a "Gill" color that's made but I can't seem to find anywhere. Supposedly, it's only available in Japan and it's no where to be found on ebay. I guess it'll stay on the wish list until I run into someone from Japan or Lucky Craft.
---
I've been keeping up with all the new releases at ICAST this week and man I wish I was there. The neatest bait I've seen so far is the X Rap Prop.
Finally, someone has attempted to improve on the Boy Howdy and Devil's Horse. They're both great baits, but let's be honest… neither one of these lures have quality components.
It appears that wait is over. I'm dying to get my hands on a X Rap Prop but will have to wait until they're released. As soon as they're available, I'm gonna get the black and gold as well as the perch color.
I know Devil's Horse die hards will complain about the bait sitting slightly tail down but personally don't think it makes a difference 90% of the time.
My favorite setup for prop baits is a 6'9″ MH Kistler Helium LTA and 15 lb mono. The rod has fast action but not so fast that it hinders casting distance or your ability to work the bait. I can literally throw the Devil's Horse a country mile but I still have a little better accuracy with the shorter length.
The Skitter Prop which is a single prop balsa bait also made by Rapala has been one of my favorites for quite some time.
Can't wait.
---
The Shimano Curado E has been on sale in a lot of places lately for less than $140. My first inkling was to get a few at a really good price, but then I started thinking maybe they're coming out with a new Curado.
A little research revealed this picture of Dave Mercer on Facebook with a shimano reel that I haven't seen before paired with possibly a new split grip Crucial or Compre.
The boards that I've visited seems to think there will be a new Curado and Chronarch introduced at this year's ICAST in July with them sharing the same body design like they did with the Bantam Curado and the Curado D series. They're also supposedly introducing a new reel line to fit between the Core and the Curado.
My favorite reel at the moment is the Chronarch D which I've plucked off ebay at various times for just above $200 which is a heck of a lot more appealing than the $300 retail price. It's basically a more solid Core. It's a bit heavier, but 7.5 oz isn't that heavy anyway. The slight amount of extra weight is a welcome tradeoff for a more solid feel.
I just wish they put the wider paddle handles found on the Curado E on the Chronarch D. From the looks of this picture, it looks like the wider paddles are coming on the new reels.
I've been wishing they came out with a 6:2:1 model with aluminum frame and sideplates and it looks like they might come out with one that's called something else.
Currently, the only 6:2:1 models are the Core which is super expensive and the JDM Metanium MG which is even more expensive. I just don't like the feel of the Citica E. I've been considering the Daiwa Zillion which has a real solid feel but it's heavy like the Revo.
There's also a new magnesium Revo supposedly coming out as well called the MGX and weighs only 5.4 oz. It also features a shallower spool for casting light line and lures.
I own some Revo's and a lot of Shimano reels. The Chronarch D is my favorite and may be able pick some more up at a great price when these new reels come out. I just wish a 6:2:1 version existed in the US market.
The Revo's have a real solid feel but too heavy for my taste and don't throw as good as a Shimano. I'll probably phase them out eventually.
The Diawa's are awesome reels but the Zillion is too heavy and I can't afford the Pixy or Steez.
I'm sure there's gonna be lots of big news this year at ICAST and my wallet will probably be hurting once I find out about all the new toys.
---